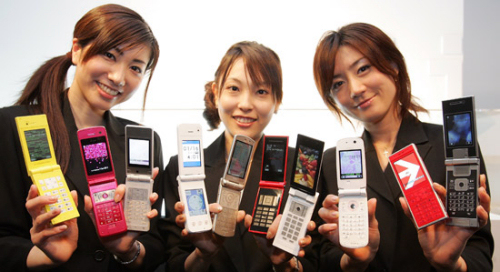 NTT DoCoMo in Japan recently unveiled ten new mobile phones to the market which will be available for purchase in February. Of the 10 new designs, two stood out a little more from the rest due to some design innovations… and smells.
The D800iDS which was made by Mitsubishi Electric is a clam shell style mobile phone with a shape not much different from many other similar products, but it has one distinct difference – no keypad. Instead of the traditional design of having a screen in the top portion and a keypad in the bottom, the D800iDS has a touch screen where the keypad would be. A number pad can be displayed in the touch screen to dial calls, or a user can simply draw the numbers with their finger or a stylus and the phone will recognize the characters.
This design feature is similar to one of the key features available in the new iPhone from Apple, which also has a touch screen and is sans keypad. The touch screen also allows users to create hand-written messages or drawing to send to one another, and opens the D800iDS mobile phone up for a variety of different games utilizing the dual screens.
The second most interesting product in the release lineup from DoCoMo was a mobile phone that incorporates smells. Upon first seeing the announcement we had visions of the ability to send different smells between users of the phone somehow through the air, and of course that quickly led to the idea of frequently sending foul smells to each other through the air and thoughts of how convenient that would be.
Much to our dismay, the SO703i "aroma phone" from DoCoMo made by Sony Ericsson incorporates small scented sheets into the phone that have different relaxing smells. While this may be a nice feature for some to make conversations more enjoyable, we liked our idea of teleporting smells through the mobile phone a little better.