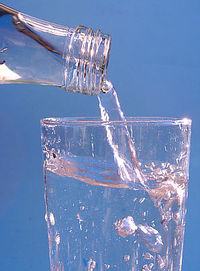 We have more details in the previous story on the woman who was poisoned by drinking too much water as a contestant in the "Hold Your Wee for a Wii" contest. It appears that the DJ's knew the contest was possibly dangerous and the woman complained of ailments on air. Now 10 people have lost their jobs and a homicide investigation is pending.
One of the DJ's is quoted as saying "Can't you get water poisoning and, like, die?" and "Maybe we should have researched this" before the contest started. During the contest Strange, who eventually died, offered to drink more water and the hosts joked that she looked 3 months pregnant. Strange is heard on a recording of the show saying, "I could probably drink more if you guys could pick me up, Do you want me to? What can I get?"
The county sheriff has opened a homicide investigation as the result of Strange's death. She had apparently drank close to 2 gallons of water without using the bathroom.
Five DJ's and five other radio station employees have been fired because of the incident.
Strange was a runner-up in the contest and won tickets to a Justin Timberlake contest. The first place winner won a Nintendo Wii.