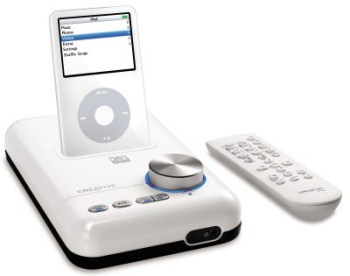 Creative has recently introduced its new Creative Xdock Wireless which works as a docking and charging station for the Apple iPod and plays high quality music in Xtreme Fidelity. This device has actually been certified by the Made for iPod program through Apple.
The Xdock plays the iPod music through X-Fi Wireless Receivers anywhere home (external speaker receivers are sold separately) and up to 100 feet away. The Creative Xdock Wireless can also connect directly to stereo system speakers or to a home entertainment system to listen to music, watch movies or view photos. The Xdock also has a wireless remote which can be used to operate the iPod when docked.
When playing music through the X-Fi Receivers, the Create Xdock can be set in different modes to control different speaker combination. A broadcast mode can be used to send the signal and turn on all the speakers available, or an individual "zone" can be set to control up to four speakers independently.
The Creative Wireless Xdock was designed to be used with the iPod video, iPod photo, iPod Mini and iPon nano and is expected to be available in March of this year. The Xdock will be priced at $299 and the X-Fi Wireless Receiver speakers will be $149 each.
Creative, iPod dock, wireless