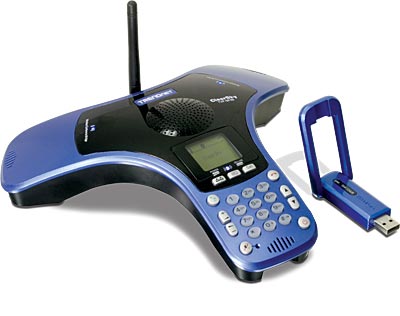 For those mobile entrepreneurs who still need the dreaded conference call, the conference room just got a little more mobile. No need to schedule out a conference room weeks in advance just to make sure you have access to the good speaker phone. Find a quiet room anyplace with an internet connection and you're good to go. You just plug the Bluetooth adapter into a USB port on your laptop and an instant conference center is at your disposal.
The phone has its own batteries so you don't even need A/C power if you have a laptop. The battery on the unit can be recharged from your laptops USB port.
This kit includes full support for Skype with built in Skype features like SkypeOUt and SkypeIn.
A headset may also be used with this device. The unit has built in speakers with adjustable volume and an LCD display to make it easy to control.
Price at the time of this article was around $135 US.