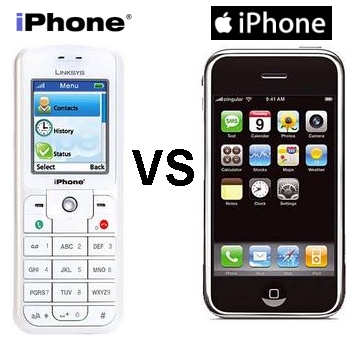 The moment Steve Jobs announced the name of the new mobile phone from Apple at MacWorld on Tuesday we all looked at each other in surprise due to the iPhone name. Until that point we were with the understanding that it was already trademarked by Cisco for a phone from Linksys and Apple would have a different name for their new hybrid mobile device.
To no surprise for us here at SlipperyBrick, Cisco has announced that it's suing Apple for trademark infringement on the "iPhone" name. The lawsuit filed in California seeks to prevent Apple from "infringing upon and deliberately copying and using Cisco's registered iPhone trademark". Shares of Apple stock had risen $4.43 to $97 in Nasdaq today, and the suit was filed after the close of regular trading.
The trademark for the iPhone was transferred to Cisco in 2000 when they acquired Infogear who owned it since 1996. Apple currently owns the iPhone trademark in Australia and in Britain.
This information will most likely only increase the exposure and hype surrounding the new mobile phone from Apple, who according to Cisco was in negotiations with Apple to give them trademark permissions, but apparently negotiations fell through. "Cisco entered into negotiations with Apple in good faith after Apple repeatedly asked permission to use Cisco's iPhone name," said Mark Chandler, Cisco's senior vice-president and general counsel.
All we can deduce is that Steve Jobs and Apple must have been pretty confident that they would win against such a suit from Cisco to have gone ahead with the already trademarked name and forgo negotiations. "It may be that Apple knows facts we don't know that lead them to believe they are likely to win," said Andrew Baum, a trademark lawyer with Darby & Darby in New York. "But the consequences of being wrong could be staggering.'"
More information will be available as it unfolds. Source: Bloomberg