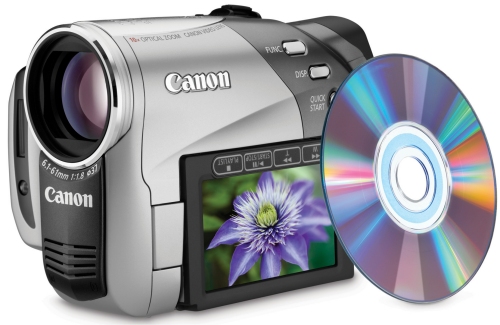 Canon has released the new DC50 DVD camcorder into their line up featuring direct-to-DVD recording along with a 5.39 megapixel CCD Image sensor.
Aside from the hi-resolution still pictures, video is taken through a 10x optical / 200x digital zoom lens with Canon's Super Range Optical Image Stabilization to help with shaky hands when zooming in. Both video and still images will take advantage of the next generation of Canon's signal processing technology, called the DIGIC DV II. This processing helps by identifying color requirements in different photo and video situations, and also helps improve quality when filming in low-light.
Canon has incorporated some additional cool features into the DC50, one of which is the Quick Start Mode which will bring the camera from standby to shooting in under a second to help avoid missing shots while waiting for the camera to power up. A simple joystick controller is also added removing buttons and making the navigation and filming a one-handed affair.
Level and grid markers are some other cool conveniences added to the Canon DC50. The markers appear over the image in the LCD viewer when turned on and help align images when shooting. The grid helps keep the subject in the correct area of the picture, and the level line keeps viewers from watching films with their head cocked to the side.
We were really hoping to see something in the way of a hard drive version from canon, but the ability to record video while snapping action shots to the miniSD card at the same time is definitely a cool trick, even if the video is going to DVD. This camera makes a great solution for novice filmers. One package allows taking quality still photos and video, and the direct-to-DVD recording with an automatic 16:9 format makes widescreen film easier for those new to shooting, eliminating the messy editing necessary to fit the frame.
The Canon DC50 DVD Camcorder is expected to be available in stores towards the end of February, and is expected to retail for $799.
Press Release [Canon]