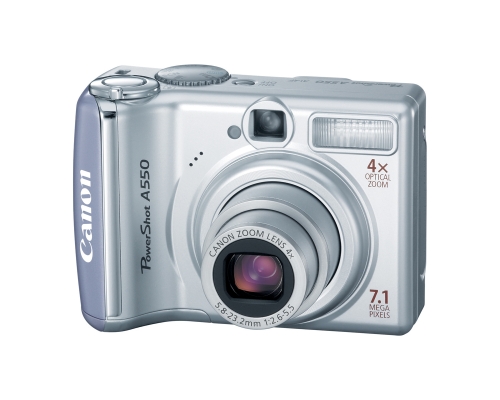 Canon has expanded its line of PowerShot cameras with a new entry level model, the A550. The A550 is meant for the budget conscious buyer who still want a decent camera.
The A550 has a 7.1 megapixel resolution with a 4x optical zoom lens and 2 inch LCD screen. The A550 replaces the A530. The new model has a larger screen, higher resolution and longer battery life than its predecessor. It is compatible with MMC, SD and SDHC memory. It can record 30 (frames per second) VGA video clips. It also has a molded hand grip to make the camera easier to hold.
The A550 uses Canon's AiAF "Smart" auto-focus system to determine the best focus, exposure and white balance. The A550 has 11 standard shooting modes for still pictures. The camera adjusts its settings to match the surroundings. The settings include night, portrait and one for kids and pets. The A550 can capture video with sound so you can create movies with the camera also.
Canon provides a cable with the camera for playback of movies and transferring and viewing of pictures. Pictures can usually be transferred in one step.
The A550 is compatible with Canon's compact photo printers. That means that the user can connect the cord to the printer and the camera and print a picture fairly quickly.
The camera comes with a USB transfer cable, an Audio/Video cable, a wrist strap, a 16 MB MultiMediaCard and, in this case, the batteries are included.
The A550 will retail at about $200.
Disclosure: The author has a PowerShot A620 which he likes a lot. It's easy to use and even his wife can take pictures with it.