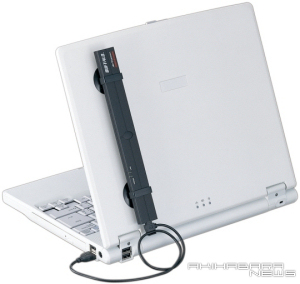 Buffalo is a worldwide company that provides network solutions for home and work, including wireless networking and storage to memory and multimedia devices.
The company recently released a wireless LAN adapter to improve WiFi signals for your PC. The wireless adapter is designed for use by PC's that do not currently have WiFi built in, or in situations where the wireless signal is poor due to distance.
The WiFi adapter from Buffalo connects to a PC via USB 2.0 and states that in improve signals up to 210% of the average WiFi adapter at distances up to 170 meters (about 1/10th of a mile). This adapter could be a good solution for working with a notebook outside your home, or in a motel or conference center in places with weak WiFi signals.
The downside is that the non-direction antenna is not very small…or particularly attractive. It measures 220 x 25 x 10 mm, weighs 33 grams and can attach to a flat surface such as the side of computer or the lid of a laptop case, as shown here, with a couple of suction cups.
In a situation where you would like to improve your WiFi reception or maybe easily pick up your neighbors WiFi and you can suction this somewhere out of site, for around $38 USD this might not be a bad solution.
Product Page [Buffalo via Akihabara News]