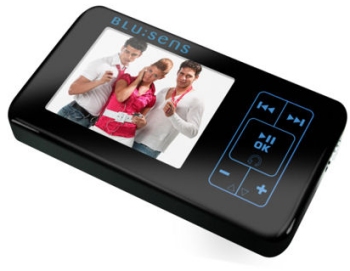 BLU:sens is unveiling an MP3 player called the G14 which has some significant features that should bring it a little attention in the PMP world. What makes this player extra special is that the attention is not due to them copying someone else's design.
The BLU:sens G14 supports WiFi and has no DRM. Individually these two items have their own significance, but combined they equate to wireless sharing of MP3 files between players without restrictions. This will no doubt catch the eye of the Microsoft Zune team, where the Zune only allows the sharing of approved record labels.
The overall look and additional features of the G14 aren't too shabby either, as it supports Bluetooth along with the WiFi, as well as DivX, MP3, WMA and OGG and it sports a 2 inch 256K color display. The player comes in capacities of 1GB and 2GB with pricing at around $130 and $260 USD, respectively.
Source: OhGizmo