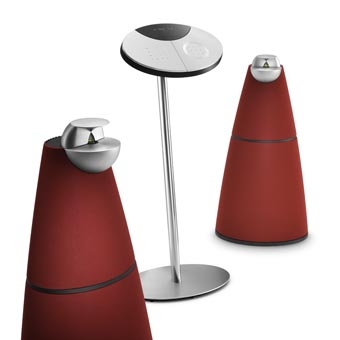 In the quest for superior sound quality combined with superior designs, the BeoLab line of loudspeakers from Bang & Olufsen often times will end the search, for a price.
Bang & Olufsen has recently released the BeoLab 9 loudspeaker, which is the latest in their line of high-end speakers, and the fourth offered with their Acoustic Lens Technology for treble sounds. The lens sits on top of the speaker in a specially shaped housing which distributes the treble in an 180 degree arc, and limits it's exposure to echoing from the floor and ceiling. The BeoLab 9 speaker also has a manual position switch which changes the sound based on it's position in the room. Placing the speaker in an open area, a corner or against a flat wall can be accommodated without sound compromise.
The look of these high-end speakers gives it a different look from most traditional designs, having a conically-shaped enclosure that holds the mid-range and bass units. The Acoustic Lens on top of the loudspeakers has a metallic look, and the rest is covered in fabric available in red, blue, dark gray and black. The base speaker is a 10 inch speaker powered by 500 watts, the mid-range a 5 inch speaker and the treble is 3/4 inch. The entire loudspeaker measures roughly 2.5 feet tall.
Source [Bang & Olufsen]