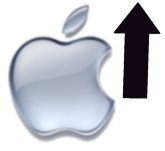 The announcement of the iPhone and the Apple TV drove Apple's share price up over $7 today to close at $92.57. This price was close to a 50 week high for the computer maker turned consumer electronics juggernaut.
That transformation has some investors wondering if the traditional computer manufacturer can handle the transformation of its business model from selling computer hardware and software to selling ultra trendy and ultra popular consumer electronics.
Palm, Research In Motion Ltd. (Blackberry maker) and Motorola shares were all down on the news of Apples entrance into the somewhat crowded market. Apple dominates that mobile audio player category and may try to do the same in the mobile phone arena.
Cingular, an AT&T company, is the exclusive wireless provider for the iPhone. Whether this limited availability will hurt the adoption of the iPhone remains to be seen. Also, the price of the phone is somewhat steep. However, the number of devices that it might replace may well make the iPhone a smart purchase.
Apple also unveiled its Apple TV which appears to be a TiVo like device for recording television broadcasts and downloading video from Apple's very popular iTunes site.
Apple has a very strong product line-up in very high growth areas. The potential is there for Apple to reap a very nice profit.