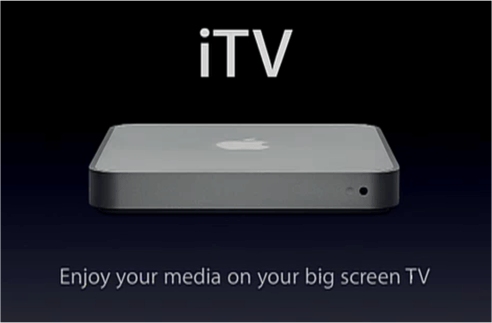 According to rumors on AppleInsider.com, the Apple iTV (or whatever the name ends up to be) may start shipping as soon as late January or early Feburary, but detailed information about the iTV and it's release does not sound like it will make the MacWorld Expo next week in San Francisco.
What we have heard so far is that the iTV is intended to "bridge the gap" between the PC and the living room and standard television by delivering content streamed from a PC with iTunes to the television, such as movies, music and pictures. The multimedia device is also expected to have a host of connection interfaces to support WiFi, ethernet, USB, HDMI and standard component video and audio jacks.
An additional "small hard drive" is also rumored to accompany the Mac OS in the iTV according to quotes from Robert Iger, Walt Disney chief executive. "It's wireless. It detects the presence of computers in your home," said Iger. "In a very simple way you designate the computer you want to feed it, and it wirelessly feeds whatever you've downloaded on iTunes, which includes videos, TV, music videos, movies or your entire iTunes music library, to your television set."
No matter what the actually release date and the exact functionality of the iTV ends up to be, it will certainly create a stir in the digital multimedia world. Previous announcements put the release of this device from Apple in the first quarter time frame, and price is rumored to be around $300.