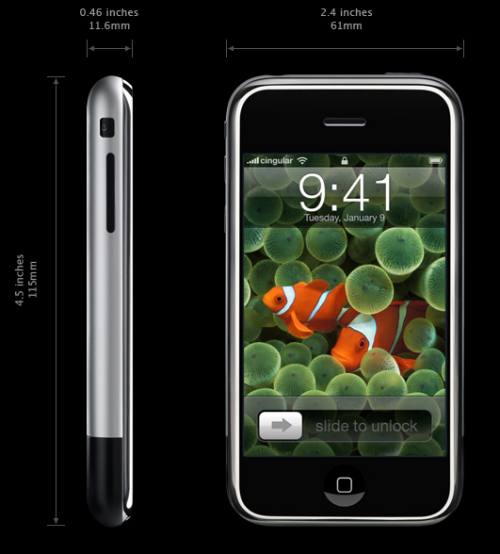 Apple added some iPhone pages to their website today after Steve Jobs' keynote speech was completed. Now that the dust has settled a little bit, here are some additional detailed specs to go along with the iPhone release information we posted earlier today.
The new Apple iPhone has a 3.5 inch Multi-touch screen with a resolution of 320 x 480 at 160 ppi. The Multi-touch screen works by finger touch, not a stylus and can track multiple fingers moving on and across the screen to perform tasks such as resizing an image. It has a 2.0 megapixel built-in camera and a battery that allows 5 hours of talking, watching videos or browsing the web, and up to 16 hours of listening to music.
The service will be provided by Cingular with Quad-Band (850, 900, 1800, 1900) GSM, EDGE, Bluetooth and WiFi. (No 3G listed in the stats). The actual dimensions of the iPhone are 115 x 61 x 11.6mm, which makes it just slightly thicker than the iPod (thicker than the Nano) and roughly the same dimensions as Cingular's 8525 for height and width, and weighs 136 grams.
Apple says they will start shipping the iPhone in June of this year after they receive FCC approval, and prices are expected to be $499 for the 4GB model, and $599 for the 8GB.
Apple, iPhone, Mobile Phones