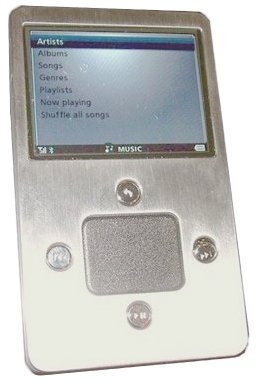 AOL and Haier displayed a hard-drive based music and video player to the Consumer Electronics Show in Las Vegas that seemed to have come out of nowhere.
The device, wittingly named the "Smartscreens Media Device", plays music as well as WMV and MPEG4 videos and works with music stores supporting Windows Media, but the real kicker is that this player supports WiFi and Bluetooth connections. The WiFi enables it to directly download music from an open WiFi network through the Linux OS that it runs on, as well as streaming internet radio. Audio can be then listened to through wireless Bluetooth headphones.
The Linux OS framework that runs this audio and video gadget was designed with the intent of letting individual software developers as well as companies wishing to partner, to be able to write and add their own applications to run on the device.
The device itself is not much to look at, having a touchpad and 4 buttons below the screen for navigation. If nothing else the Smartscreens Media Device looks sturdy and even potentially bullet proof if it weren't for a broken button on the display model pictured here. Hopefully there are some plans for some type of skins to add some personality to this otherwise interesting gadget. Availability is expected towards the middle or end of this year, and there is no word on price at this time.
Source [PC Mag]
(Image Source: Engadget)