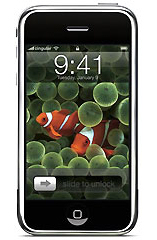 A preliminary analysis from iSuppli states that they estimate the iPhone from Apple has over a 50 percent gross margin which all comes back to Apple since they do not allow carriers to subsidize or discount the phones.
"With a 50 percent gross margin, Apple is setting itself up for aggressive price declines going forward," said Jagdish Rebello with iSuppli.
According to iSuppli, the total expense to manufacture the 8GB iPhone is estimated to be about $280, leaving $319 in profit $599 price tag. The firm did not have an actual iPhone device available to them to take apart, so this estimate was made from the knowledge and experience with similar parts from other products.
The firm estimated that the cost for the flash memory was the most expensive component of both the 4GB and the 8GB iPhones, which was surprisingly more than even the touchscreen, one of the key unique features of the Apple product. The cost of the touch screen was estimated at $33.50, while the cost of the 4Gb and 8GB flash memory was $35 and $70, respectively.
A representative from iSuppli also predicted that many competitors will start releasing similar products to the iPhone, with the closest competitor current being the KE850 from LG.
We here at SlipperyBrick would have to agree and are pretty sure that there will be plenty of competitors with similar products to compete with the Apple iPhone, and that will hopefully bring down the price a little bit. I appears that Apple has a little wiggle room in that area.
Apple, Apple iPhone, iPhone, News