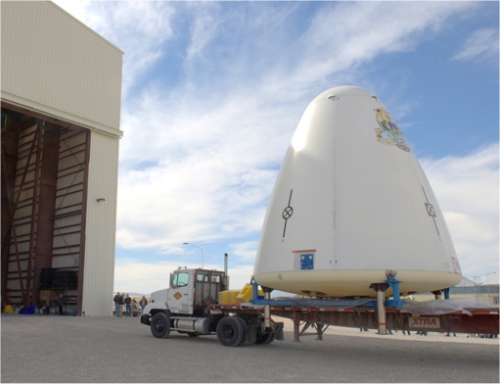 Jeff Bezos, founder of Amazon.com, has released some detailed information about a literal rocket launch in a project that has been under wraps since it's inception over 6 years ago.
Goddard, a 50 foot tall rocket, lifted off under it's own power, flew about 285 feet into the air and then landed less than a minute later, seemingly with out a hitch. Multiple photos and a video of the rocket launch can be found at the Blue Origin web site. The video shows the full rocket launch and landing, and there are pictures of the rocket and the event of the launch on November 13, 2006.
The Blue Origin website leads off with a pitch for engineering applicants to join the Blue Origin team. "We're working, patiently and step-by-step, to lower the cost of spaceflight so that many people can afford to go and so that we humans can better continue exploring the solar system. Accomplishing this mission will take a long time, and we're working on it methodically.", states the site.
This was the first test towards a commercial venture to create a ship that will take passengers for a 10 minute ride 60 miles above the earth to view and experience the edge of space, and bring them safely back.
Source [Blue Origin]