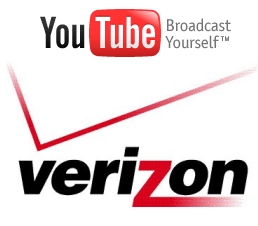 YouTube has announced that its videos will now be available on mobile devices starting in early December. This announcement marks the first step by the Google-owned video-sharing service to deliver video entertainment to mobile consumers.
Initially, YouTube will give exclusive access to Verizon Wireless V CAST consumers. The service will give Verizon customers limited access to a sampling of YouTube videos from their mobile phones. More partnerships and features from YouTube for the mobile phone are expected to be rolled out over the coming year.
The YouTube videos will be available on any one of the Verizon Wireless V CAST-enabled handsets. Consumers will also will be able to record and share their favorite moments using their mobile phones.
Verizon Wireless customers can purchase a V CAST VPak monthly subscription for $15.00 or $3.00 for daily access. The VPak subscription includes unlimited basic video, but application download fees apply for 3D games and premium video.
Press Release [Verizon]