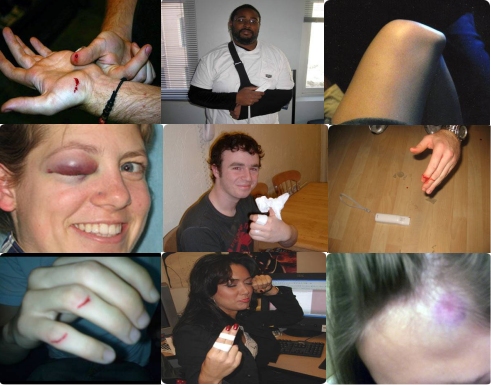 Nintendo's new Wii game console continues to get lots of exposure, but not all due to the cool new features. Pictured is a small showcase of those on the injured list from WiiHaveAProblem, reportedly due to game play injuries using the Wii remote control. Some of these injuries could possibly be resolved with the new, stronger replacement wrist strap that you can request from Nintendo, but not all of them.
Nintendo has continued to have spectacular sales with the Wii game console which features a new style of controller that allows the player to mimic actions of the game, such as swinging a racket or a golf club, or casting a fishing rod. Some have gotten so into the game that they lose sight of objects around them, and sometimes lose their grip on the controller.
In response to these many reported injuries along with damage to televisions and other objects around the house, Nintendo has recalled the wrist straps for the controller and offers a replacement strap with a thicker cord.
Doing this will hopefully help with some of the damages caused by losing control of the remote, but some damages have also been caused simply by players swinging their arms too widely and not paying attention the objects around and above them, and have nothing to do with the wrist strap breaking. Reports have shown players who have accidentally hit things such as other people standing next to them and light fixtures hanging above them. To this Nintendo continues to suggest playing it safe, and not get too wild with the controller, which of course for many cuts down on the fun as well.
In December Nintendo started shipping their Wii game consoles with a stronger strap, but for those of you with a Nintendo Wii that was shipped before December, you can order your replacement wrist straps at Nintendo's site at up to 4 per game console. The strong strap alone will not prevent all of the damages and injuries, but could certainly help if you lose your grip, just remember to be careful when your having fun in this newest extreme sport.