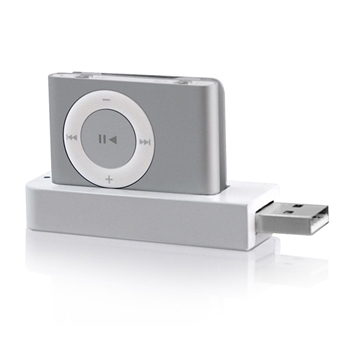 iPod accessories abound these days, and once in a while you can find one that might actually be useful. I'm not saying that this is something you need, but with the iPod Shuffle being as small as it is, this simple little docking station keeps it from getting pushed around your desk.
This really small Shuffle dock has no cords, and just plugs directly into your USB port. It's profile is narrow enough that it takes up no more room that a cord would, and is light enough even with the Shuffle in it that it is not going to put too much torque on your USB port.
The thing that you will want to watch out for with this is the position of your USB port. We are not sure how well the Shuffle stays in position in the dock, so if your USB port is horizontal and upright you will have no problem, but you may want to think twice if it is not. Not only could the Shuffle fall out of the dock, but if the port is vertical it could block other ports when docked.
The USB Travel Dock for the iPod Shuffle will both charge the player and sync up music at up to 480 Mbps. It also has a LED indicator light to indicate that the power is coming to the dock.
Catalog Page [Marware]
iPod shuffle, Shuffle dock, USB travel Dock