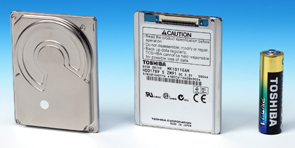 Tokyo – Toshiba has announced the release of a new 1.8 inch hard drive with a capacity of 100GB. That is a density of 155.3 gigabits per square inch, and is the most of any current 1.8 inch drive.
The new small hard drive (MK1011GAH) uses perpendicular magnetic recording (PMR) technology and an improved error correction code to help obtain the high density in the small drive, and it also complies with energy conservation laws consuming a low amount of power.
Drives like this are key in continuing to provide smaller technology gadgets that can continue to hold more information. The press release mentions that this innovation will help move forward with smaller and lighter notebooks, but the iPod also uses this size of a hard drive, which could mean even greater capacity for it or similar devices.
The new 1.8 inch 100GB drive is expected to be mass produced in January of 2007, and will also be featured at the International Consumer Electronics Show (CES) 2007, in Las Vegas, Nevada the same month.
Press Release [Toshiba Japan]