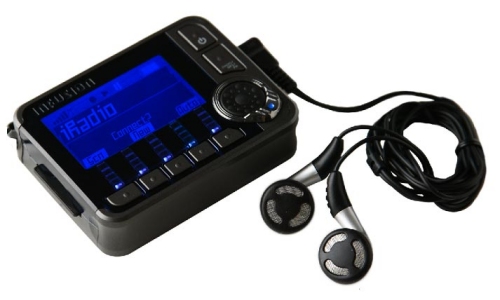 I'm so happy; I think I just discovered the solution to my internet radio issues – the InFusion by Torian. You see, I listen to a LOT of internet radio and I've been searching for a good solution which would allow me to listen to internet radio without a PC.
The InFusion allows users to listen to any Internet radio station from around the world without the need for a computer. You just need access to an appropriate WiFi hot spot (WLAN 802.11b).
It works much like a regular radio would, select from thousands of stations and make up to 16 presets for your favorite programs. The device also includes an FM radio receiver if you can't get internet access. Audio playback options include MP3, RealAudio, AAC, OGG (WMA in 2007). The InFusion has a SD MMC Card Slot to store all your MP3′s.
The thing excites me most about this product is the compact footprint. The dimensions are 77.6mm x 59.5mm x 22.7mm (L x W x H) or about the size of a business card and it weighs just 100 grams. The Li-ion Battery will give you about 5 hours listening time with Internet Radio and 8hrs listening to MP3′s.
The InFusion started shipping in November 2006 and retails for approximately US$229. Consumers in the U.S. can purchase the InFusion from the Torian InFusion website.
Infusion, internet radio, radios, Torian