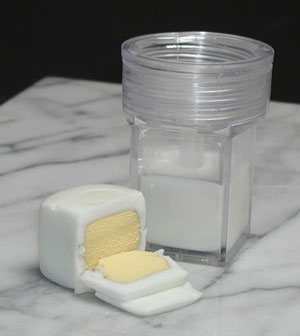 Whoever said that necessity is the mother of all inventions may not approve of the Egg Cuber. This handy kitchen gadget is just like it sounds, it makes your hard boiled eggs into cubes instead of the common egg-shape that we all must be so tired of.
If you're wondering exactly how this works, I can assure you that the chicken really has nothing to do with it as the box for the Egg Cuber implies with an "Ouch" caption. You are instructed to boil your egg as you would normally, peel the shell and then place the egg into the square mold and screw down the top while the egg is still warm. After a short amount time you can remove the egg and it retains it's cubic shape.
Try it out and let us know what you think, and I'll keep an eye our for recipes calling for a cubed eggs.
Get Your Own [Kitchen Store]