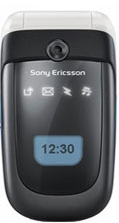 This is the new Sony Ericsson Z310, a new clamshell phone featuring a polished finish and programmable color effects for your contacts.
The Z310 includes a series of light effects that add a personalized touch to your phone. You can assign a colored light to each of your favorite callers and recognize immediately who is trying to reach you. The phone also allows you to set the look and feel of the menu and screen display to match the time of day. For example you may choose a bright theme during the daytime and something darker for your evening theme.
The phone also includes many must-have features you have come to expect such as a VGA camera, MP3 Music Ringtones, and Bluetooth connectivity. You can upload pictures directly to a Blog site from the Z310 via Picture Blogging or take advantage of Picture Messaging (MMS). The phone also serves as a portable photo album to keep all your favorite photos with you.
The Z310 comes in Jet Set Black, Blush Bronze or Lush Pink to best fit your lifestyle or wardrobe. Accessories for the Z310 include the compact HBH-PV705 Bluetooth Headset, the Deskstand CDS-60, and HCB-100 Bluetooth Car Speakerphone.
Z310 is a Triple band/EDGE/GPRS 900/1800/1900 handset and will be available in selected markets from Q1 2007.