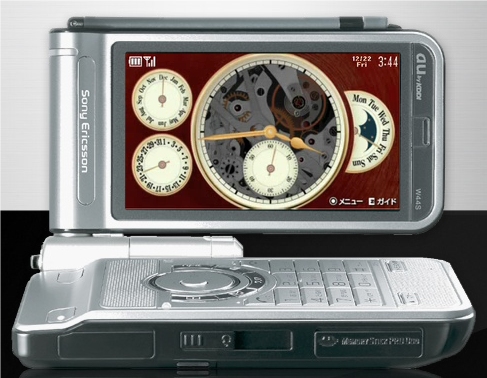 The Sony Ericsson W44S has been released in Japan and it's sporting a new design. The W44S has dual hinges to add another dimension to the popular clam-shell design.
It has a hinge on the top of the phone to allow you to open it like a regular flip phone, and it also has a hinge on the side so you can open it sideways to watch TV through the 1 Seg TV tuner on a QVGA display.
The W44S also has a digital camera and a host of multimedia capabilities. To take advantage of the high quality display, the phone comes with a number of backgrounds such as an animated Bounce Clock, a Time Piece as shown here, a Train View that has the landscape rolling by, Ukiyo-e, a City and Starry Sky.
The widescreen shows a Theater Menu for different options when viewing multimedia, Lismo music service to download and listen to music, and a special email client.
The Sony Ericsson W44S is only available in Japan and we have heard no word on it's availability for the US at this point.
Product Page [Sony Ericsson Japan]