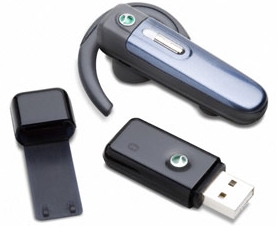 Bluetooth headsets are no longer just for cell phones. Sony Ericsson has announced the release of the Bluetooth VoIP HBV-100 Headset kit. The Bluetooth VoIP kit allows you to make handsfree VoIP calls with your PC.
The kit consists of a Bluetooth headset, a Bluetooth USB Adaptor, and a standard charger. The USB Adaptor plugs into your PC (running Windows XP) and requires no complicated installation or configuration to work with most internet telephony software. Once installed, the adapter connects with the HBH-PV705 headset to allow you to communicate wirelessly.
The headset requires the Windows XP operating system. Headset talk time with Bluetooth phone is up to 12 hrs with standby time up to 300 hrs.
The Bluetooth VoIP kit HBV-100 is expected to be available in late December 2006.
Press Release [Sony Ericsson]