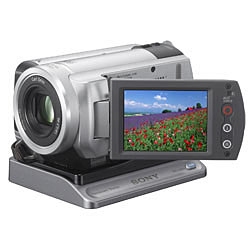 The DCR-SR40 Handycam is a small camcorder with a large capacity for video. This video camera holds it's multimedia with a 30GB hard drive instead of using a tape or miniDV.
After shooting with this camera for a couple of days the best part of it, especially compared to non-HDD camera's, is the fact that you can view and manage the video files with the touch screen LCD interface. Each time you start and stop the recording, the camcorder creates a new file. The files are automatically organized into dates when they are saved to the hard drive, so navigating them is fairly easy. Also, the files are represented on the screen by the first frame of the video. A few times I would forget to remove the lens cover before shooting, and those videos would all be identified as black, but aside from that it was pretty easy to view and differentiate between the clips when looking at them in the viewer.
The touchscreen worked very well for me. I do not have the smallest fingers and the screen requires a slight amount of pressure to trigger the touch, which for me was good since there was no non-deliberate selections. Through the 2.5 inch touch screen you can select videos to play back and stop, start, rewind or fast forward them. You can also manage all of the features of the camera by navigating the menu. It was pretty intuitive to figure out and after a few minutes I could find my way around the navigation easily.
The DCR-SR40 has 3 basic modes of operation that are all run through a toggle dial that rotates on the back of the camera. You can switch the camera on and select either still photos, record video, or view the stored clips.
Still pictures are a little less to be desired in quality. If you are looking for a camcorder that will also work good for still pictures, this is not the one. You will want to bring your separate digital camera along for the still shots, however it does take still images and it works very easily and can store almost 10,000 JPEG images on the hard drive.
Taking video is as simple as turning on the camera and pressing record. The LCD is the only viewer while filming and needs to be open to record. The video quality was quite good and seemed to be even better when zooming with the Carl Zeiss Vario-Tessar Lens that has 20x optical and 800x digital zoom. You can record up to 440 minutes of video on the 30GB hard drive with the highest quality mode, and over 1200 minutes with the lowest quality.
The hard drive based Handycam comes with a small docking station that allows it to charge and hook up with your PC via a USB connection. This connection also allows you to transfer video at USB file transfer speeds instead of at filming speeds as you would have to do with a tape. This camera does not have any additional places to attach an additional microphone and does not have a light at all, but does have a Nightshot Plus mode that works well for recording in the dark. It also does not have a memory card slot, so every video and photo must go onto the hard drive.
This camera is really small, at only 14oz with the standard battery and measures only 2 3/4″ x 2 7/8″ x 4 5/8″, which makes it fit into most jacket pockets and small camera cases pretty easy. It is also light enough to hold and record for an extended period of time. The package also comes with some editing software to make it easy to transfer, organize and burn the files to DVD.
If you are looking to do more professional-type video's you may want to look at some of the higher end models of this camcorder, but for recording family events and personal videos this camera works great. The touch screen and file management is very convenient and very easy to use, and overall the Sony DCR-SR40 comes recommended as a very good camcorder with good video quality and ease of use in a very compact package.