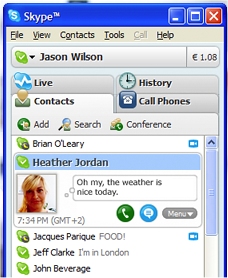 Skype has released the beta version of Skype 2.2 for Windows Mobile which now supports smartphones powered by Windows Mobile software, as well as more Pocket PC devices, including those using lower-power processors.
Sporting a familiar look and feel, this latest iteration of Skype software further extends Skype use beyond desktop or notebook computers and is key to Skype's mobility strategy. Consumers can enjoy free Skype-to-Skype calls, with support for SkypeOut, SkypeIn, voicemail and call forwarding anywhere in the world where they have high-speed wireless internet access.
One-click Skype access lets users view and call contacts easily. The software also includes an enhanced SkypeOut dial pad and an enhanced today screen with presence status and event notification of missed calls, new chat messages and voicemails. Users can have multichat sessions using animated emoticons and an enhanced contact list features avatars and mood messages.
Skype for Windows Mobile can be downloaded for free at skype.com/go/mobile.