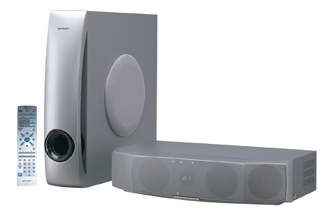 Surround sound systems don't always need to be complicated and the Sharp SD-SP10 Virtual Surround Sound System is a great example of such a system. The SD-SP10 incorporates a simple, two-component design that takes just minutes to set up and gives you many options for setup with rooms of varying shapes and sizes.
Sharp's 1-Bit audio technology makes the most out of this minimalist home theater system. The 2.1 Channel Home Theater System simulates 5.1 Channel Surround Sound from just one speaker box.
Sharp incorporates two technologies to create and enhance the virtual surround sound experience. The Dolby Virtual Speaker delivers 5.1 surround sound by using a unique digital signal processing technology and with the Audistry by Dolby technology you can customize your sound depending on your personal preferences.
The slender profile and small footprint of the SD-SP10 offer many flexible setup options and there is no need to find a place for rear speakers or worry about where to hide the speaker wires. The SD-SP10 requires very little space and can be set up almost anywhere in any room.
Other features include:
Surround Sound Formats: Dolby Digital, Dolby Pro Logic II, DTS
Output Power 140 Watts
1-Bit Digital Amplification System
Full Function Remote Control with Separate Subwoofer Volume Control
35 Watts per Channel Power Output
Surround Sound Type: Dolby Virtual Speaker
Terminals include: 2 Optical Digital Inputs, 1 Coaxial Digital Inputs, 3 pairs Analog RCA Input, Subwoofer Pre-out.
SD-SP10 [Sharp]
Home Theater, Sharp, Speakers, surround sound