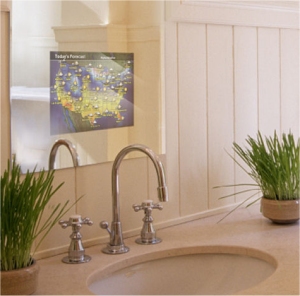 The Television Mirror from Séura uses a specially formulated mirror designed exclusively for LCD TV's that can be discreetly hidden when the display is turned off.
The Seura Mirrors come in two product lines: the Premier Series and the Enhanced Series. The Premier HDTV Series TV mirrors are designed for larger rooms and feature 32″, 37″, 45″ and soon 60″ liquid crystal displays that include a widescreen HDTV tuner with CableCARD technology. The EDTV Enhanced Series features 15″ or 20″ liquid crystal displays and are better suited for smaller rooms such as a bathroom, kitchen, or home gym.
Both product lines are available in recessed or surface-mounted configurations. The recessed models blend nicely into the wall, giving the illusion that the TV is simply a mirror. The surface-mounted units mount on a wall like a painting or picture and feature side panels that can be finished in oak, cherry, maple.
All of the TV mirrors use Sharp LCD's and fully integrate with DVD, surround sound, satellite, cable, and home automation systems. The Premier Series models exclude speakers to utilize your external speaker system.
Séura can even customize your mirror for the most specialized designs and discriminating tastes.
Television Mirror [Séura]