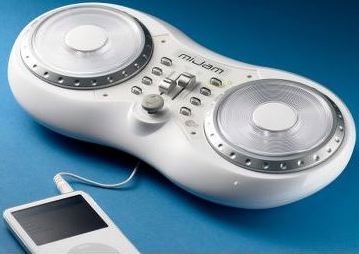 The miJam iPod DJ Mixing Studio is a personal mixer that can take input from your iPod and allow you to apply your own remix. Actually, you can probably use any digital audio player to provide the music input, but these days everything is associated with the iPod when possible.
The mixer has two discs that allow you to mix and scratch providing different background rhythms, fill-in sounds, drum fills and voice effects. You can also change the volume and tempo speed and attach the output to a PC or Mac to save the result.
The iPod mixer runs on 4 AA batteries and runs only about $40.
Catalog Page [Hammacher]