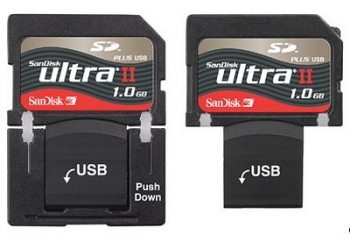 SanDisk is not the first to offer an SD card with USB, but I have to say I like this design a little better than the A-Data version simply because the removable portion of the card is hinge connected instead of being a part that is removed and can be lost.
The real feature here is that you are getting a USB interface built right into your SD card. Normally you would need some sort of SD card reader to insert your card into and transfer the data through a USB or other port. With the SanDisk Ultra II SD plus USB you do not need a reader since you can use this SD card in your camera, PDA or any other device that uses SD cards, and then remove it and connect directly to a USB port.
The Ultra II SD Plus USB cards come in sizes of 512MB, 1GB and 2GB and offer a minimum of 10MB/second sequential read speed and a 9 MB/second sequential write speed for fast viewing and saving of data along with low power consumption.
Product Page [SanDisk]