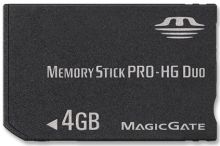 An increasing number of devices such as digital cameras and camcorders are using higher resolutions, requiring the transfer of larger amounts of data over the same period of time to memory devices. Due to this increasing need, SanDisk and Sony partnered on improving the Memory Stick Pro product and created the Memory Stick PRO-HG.
The Memory Stick PRO-HG format increased it's transfer speed by using an 8-bit parallel interface, replacing the 4-bit parallel interface in the Memory Stick PRO. This resulted in a transfer speed of up to 3 times faster to cater to real-time recording of high-resolution video and images.
The Memory Stick PRO and Memory Stick PRO-HG will be allowed to be used interchangeably, so that you can use the new, faster memory in older host devices that take the regular Memory Stick PRO, and new devices that are compliant with the Memory Stick PRO-HG can also read and write from the older Memory Stick PRO's.
"Sony and SanDisk share the common goal of providing exciting new digital audio and video applications to consumers," said Eli Harari, Chairman and CEO of SanDisk Corporation. "This is the driving force that is behind our relentless efforts to leverage our expertise and extensive intellectual property in flash memory cards to develop the Memory Stick PRO-HG. I am proud of the close cooperation we have with Sony over the years and look forward to seeing the exciting new products that Memory Stick PRO-HG media enable."
The licensing for the new PRO-HG compliant devices is scheduled to start in the first part of 2007.
Press Release [SanDisk]