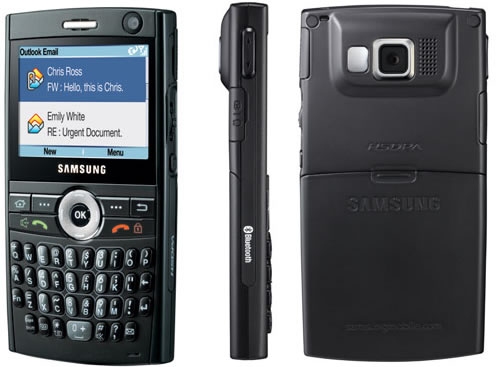 Hong Kong – Samsung along with Microsoft today launched a new mobile device boasted as the the thinnest 3G phone in the world with a full QWERTY keyboard. The Ultra Messaging i600 weighs only 99 grams and is just 11.8 mm thick, sporting HSDPA support and runs on Windows Mobile 5.0. This release marks the first smartphone in Europe and Asia-Pacific that supports HSDPA (High Speed Downlink Packet Access) , WiFi and Bluetooth.
Running Windows Mobile 5.0 with Direct Push, users are able to take advantage of instant updates to emails, meetings and tasks through your hand held phone in the same manner as you would using Outlook from the desktop. The Windows Mobile OS also of course amkes office documents more easily accessible and supports Office application formats such as Word, Excel, Powerpoint as well as viewing PDF's. This i600 smart device also supports web applications aside from browsing, including podcasting and RSS readers. For the after-work hours you don't forget the ability to listen to music and view video media with the integrated Windows Media Player.
Aside from being donned with a full QWERTY keyboard along with a handy wheel key and thumb wheel navigation, the i600 also has dual cameras, one VGA and one 1.3 megapixel. These camera support taking still photos and video, and will allow you to participating in a 3G video conference call.
"I am proud to introduce the Ultra Messaging i600 Windows Mobile smartphone with Microsoft. It represents the best innovation from both Samsung and Microsoft and makes it a perfect solution for today's mobile professional," said Kitae Lee, President, Samsung Telecommunication Network Business. "Samsung will continue to explore new market opportunities with Microsoft and we look forward to collaborating together to bring more innovative products to market."
The Samsung 's Ultra Messaging i600 is expected to be available in Asia-Pacific and Europe in Q1, 2007.
Press Release [Samsung]