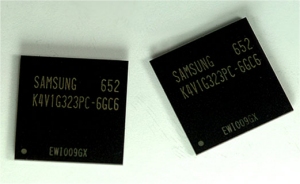 Samsung has announced the successful development of the industry's first one gigabit Mobile DRAM for mobile products using 80nm process technology. The new chip is expected be more cost effective than other current solutions and can be used for a variety of mobile applications as well as for digital cameras, portable media players and portable gaming devices.
The new DRAM is an attractive choice for mobile applications as the electric current drops a full 30 percent when compared to the double-die stack, 1Gb memory solution widely used today. In addition, the new 1Gb Mobile DRAM chip introduces a new temperature-sensing feature that reduces power drain in standby mode by 30 percent over conventional memory chip designs.
The new chip has a more compact form factor, making it at least 20 percent thinner than a multi-stack package of 512Mb dies. The new Samsung chip can also be combined with Flash memory via package-on-package designs.
Mass production of the memory is expected to start in the second quarter of 2007.