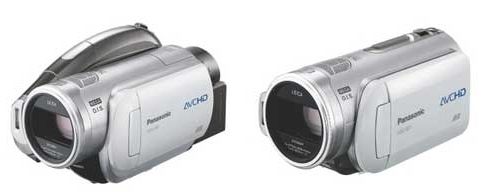 Panasonic has recently unveiled two new high definition camcorders with some big screen features in tiny packages. The HDC-SD1 and HDC-DX1 are similar camcorders but both record high def in slightly different ways. The HDC-DX1 (pictured on the left) records onto DVD discs, and the HDC-SD1 records onto small (in size not capacity) SDHC memory cards.
The HDC-SD1 has some advantages with recording onto the memory cards by having no moving parts required in order to save the data. It has fewer parts to break, and is more resistant to shock. Also, it can potentially hold more data. A 4GB memory card can hold up to an hour of high definition video, where a dual layer DVD can hold up to about 40 minutes. And of course if you add a larger memory card, you can hold more recording time. Another slight advantage of using a memory card over disk is transferring the data to your PC. With the DVD disc, you are limited to the read time of the disc drive of your PC or of the camcorder. Usually this would be pretty quick from your PC drive, but in the case of the memory card, you are only limited by the transfer time of the cables from the camera or the memory card reader, which can often be quite a bit faster. Both of these options provide significant advantages over a tape medium, where usually you can only transfer at the speed of recording.
Aside from the recording medium, these two cameras are pretty similar. Not only do they both record in a high resolution AVCHD format, but they also both have a new optical (not digital) stabilization feature to help those with shaky hands while recording. They also both have a 5.1 channel surround sound system with 5 microphones and a "Zoom Mic" feature. When zooming in on a subject, the microphone also zooms in on the same subject, recording sound from it specifically from longer distances away. This also allows playback with 5.1 channel surround sound quality. If you have never heard this with even dual microphones on a camcorder, it is quite impressive. A good way to try it out is to try recording in the same room that you will play it back in, such as at your computer desk. Sit at your desk and record with the camcorder, doing things such as typing, talking to someone, and especially try calling your phone so it rings. Now, download the data to your PC with at least stereo speakers and play it back. When the phone rings or someone calls your name you can hardly tell the difference between the real and recorded sound.
"We're excited to introduce Panasonic's first consumer High Definition video camcorders," said Rudy Vitti, national marketing manager, Panasonic Consumer Electronics Company. "We've implemented our black box technologies, such as our 3CCD camera system and Optical Image Stabilization to deliver the best image quality to consumers. These two camcorders offer quality and accessibility, with the scalability of SD memory with the HDC-SD1 or the convenience of recording to DVD discs with the HDC-DX1."
Both the HDC-SD1 and HDC-DX1 are expected to be available to consumers in March of 2007, with pricing of about $1500 USD for the HDC-SD1 recording to memory cards, and a little less at about $1400 USD for the HDC-DX1 which records to DVD discs.
Press Release [Panasonic]
3CCD, camcorder, HDC-DX1, HDC-SD1, Panasonic