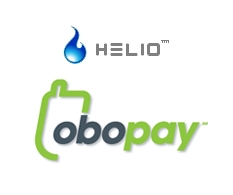 Obopay has announced that its mobile payment service is now available to Helio members. Helio's hip, young, and connected members will now have the power to easily get, send and spend money directly from their mobile phone.
Obopay's mobile payment service provides mobile customers with a real-time, secure, mobile peer-to-peer payment service, which is linked to an Obopay Prepaid MasterCard account. The prepaid MasterCard cards are accepted at 24 million merchant locations and over 1.1 million ATMS around the world.
With the service, Helio members are able to manage their Obopay accounts from a mobile application residing on their phone. They can check balances, view payment histories, and add funds – all remotely. Users will also have access to advanced mobile device personalization features such as contact list integration and specialized ring tones.
This is a significant announcement for the mobile payment domain. With Obopay on Helio, mobile payments have arrived in the U.S. and for those living a mobile lifestyle, this is truly an invaluable service.