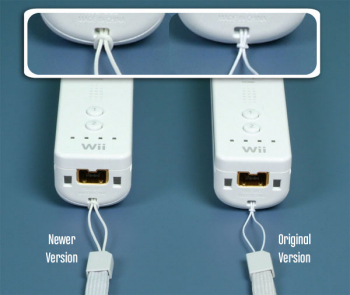 Nintendo has added some information to their Wii Remote Safety Information page regarding the recent claims of damages caused to people and objects due to the wrist strap breaking during game play.
As we had reported earlier this month there had been a number of reports where game players using the Wii controller would sometimes loose their grip on the device, and even though they were using the wrist strap it would sometimes not be strong enough and the wrist strap would break, sending the Wii remote flying through the air at high speeds striking objects and other people causing damage.
This month Nintendo, being aware and responsive to the problem, had already started shipping the Wii game consoles with a new and stronger strap, but they are now stating that you can get your wrist strap replaced if you have the older style. The picture along with this post shows the difference between the two straps, and you can see a larger photo of the new strap that Nintendo has posted.
No it is not you, the difference is really hard to tell, especially if you do not have them side by side. If your Wii game console shipped before December you can be pretty sure you have the old wrist strap, and you can use this Wii wrist strap replacement request form to request a new one. You will need the serial number of your Wii game console and Nintendo says they will start shipping the news straps on the 21st of December taking 5-9 days to get to you. They also said you will receive a confirmation email when the new strap goes out the door.