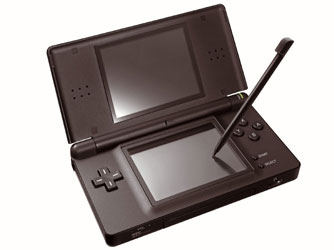 There will soon be a new gadget available for the Nintendo DS and Nintendo DS Lite to sense motion by the user.
The card can plug into the DS slot and contains a three-axis accelerometer and a single-axis gyroscope to sense motions such as tilting, twisting and gestures by the person holding it. The new card opens up a lot of opportunity for different games which could be along the same lines as the new motions sensitive controller for the Nintendo Wii. Some example applications show using the Nintendo DS as an etch-a-sketch type toy by tilting it to draw, or rolling points around like water droplets to make different designs.
The Nintendo DS and Nintendo DS Lite are both portable gaming systems with two vertically tiered screens. The botton screen is a touch screen and the top is for viewing only. It also has speakers, a microphone and WiFi to allow for multiplayer games and voice interactions.
The card is only current available for pre-order for $25 and you will need to make your own application with it until someone comes out with one you can buy.
Source [NDS Motion]