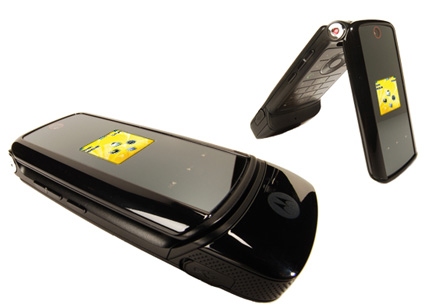 This version of the Sprint MOTOKRZR K1m from Motorola has a shiny sleek design not found on the gray colored version from Verizon, but has the same basic functionality.
The K1m has a thin clam shell design with a 1.3 mega pixel camera and some really cool touch sensitive buttons on the front to run your music playback without having to open up the phone. Buttons like this on the outside of phone are really nice and convenient, but they usually involve some protrusion that looks clunky. This one definitely does not, and gives some common and convenient functionality while keeping a clean look.
A somewhat uncommon and nice feature in this phone is a slot for a memory card to move music and image files easily between devices or your PC, as well as adding extra storage. A memory card slot is pretty common in PDA's, but not as much in the slimmer non-business targeted phones such as this. This feature along with the external push buttons makes the Motorola K1m an attractive choice for a gadget to both talk on and listen to your music.
Of course coming from Sprint the K1m has the Sprint Power Vision which gives access wirelessly to live TV, downloading songs and play games against other people at high speeds. You can also get customized content streamed to the phone with news, sports and weather.
The mobile phone supports SMS Voice and Text, Bluetooth for car kits and headsets, and some tools such as a calculator, alarm clock and a scheduler. The standard battery gives you up to 3.5 hours of talk time and the internal memory can store 1000 phone numbers and 400 email addresses and URL's.
This is a great solution if you are looking for a sleek, thin phone that leans towards some multimedia capabilities without losing it's style, and for about $200 (after the savings for signing up with a plan from Sprint) the K1m is a pretty good deal.
Product Page [Sprint]