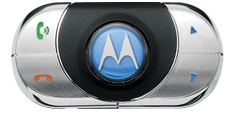 More vehicles are being produced with Bluetooth integration built into the car, so you can speak and listen through your vehicle audio system when you have your Bluetooth enabled mobile phone with you. For the many other cars that currently do not have this integration built in, Motorola has a pretty nice solution.
The Motorola IHF1000 Bluetooth Car Kit is a package of components, most of which are hidden away, that allow you to have wireless and hands-free mobile phone use and conversations in your car. There is a small device pictured here that you mount within reach of the driver which allows you to do basic functions on your Bluetooth enabled phone with voice commands or simple touches to the buttons. In fact, the device will allow you to integrate with up to four different phones that have Bluetooth capabilities.
The Motorola Car Kit will announce calls coming in with an audible caller ID that you can accept or reject, and allows calling through voice commands by name or by number. You can even mute and un-mute with voice commands (which I would imagine makes topics about 'mute' pretty much off limits). Most vehicles can even have the system routed through the cars audio system to use the built-in speakers.
Unfortunately the installation of the IHF1000 Car Kit from Motorola does require some professional help.
Specifications [Motorola]
Bluetooth Car Kit, hands-free, Motorola