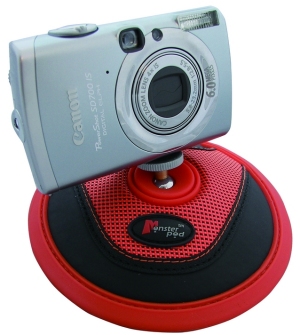 The MonsterPod camera tripod sticks and grips to just about anything and allows you to hold your digital camera motionless, vertically, horizontally or upside down. The MonsterPod allows you to mold the tripod to nearly any surface with a light amount of pressure and the viscoelastic base adheres until you peel it off.
The MonsterPod uses a "viscoelastic morphing polymer" to stick to metal, wood, plastic, steel, brick, glass, tile, marble, cement, enamel, sheet rock, rocks, trees, and over 1,000 other surfaces and objects. The viscoelastic base is good for over 3,000 sticks in a testing environment.
The MonsterPod is 4.5 inches wide and 1.75 inches tall and weighs only 6 ounces, making for a compact, lightweight traveler's tripod. The Tripod holds up to a 10 ounce compact digital camera or less for up to 10 minutes depending on the angle and surface.
MonsterPod Viscoelastic Camera Tripod [MonsterPod]