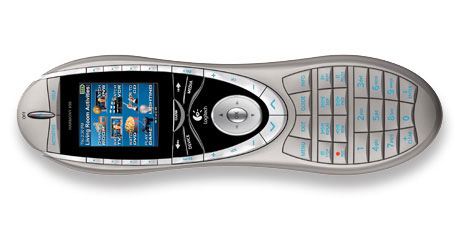 Imagine a world in which you control all your home entertainment and advanced lighting systems using only one remote. Such a world could be yours with the Logitech Harmony 890 Advanced Universal Remote. The Harmony 890 allows you to wirelessly control your home entertainment system without direct line-of-sight to the components.
The Harmony 890 uses both radio frequency (RF) and infrared (IR) wireless signals to control the parts of your home-entertainment system that may be hidden behind walls or cabinet doors. The 890 breaks the line-of-site barrier by sending RF commands to a wireless A/V bridge receiver. The receiver serves as a bridge by converting RF signals to IR commands, and then broadcasts infrared signals to the components allowing you to achieve true wireless bliss.



Programming the 890 is easy; just connect the remote to your computer and the Web-based wizard walks you through entering the model numbers of your components. The Harmony Remote includes Smart State Technology which lets you control even the most complex system without programming complicated macros. Simply press an Activity button, such as "Watch TV" or "Listen to Music," and your Harmony Remote automatically sets up each device required for that action. The Harmony device database includes over 5,000 manufacturers and 175,000 devices and is constantly updated with new components.
The Harmony 890 can achieve a wireless range of up to 100 feet and features a fully backlit screen that allows you to easily navigate in the dark. Isn't it time you splurged on a good remote to keep all those unsightly wires and components hidden?

Logitech Harmony 890 Advanced Universal Remote

Harmony 890 Advanced Universal Remote, Logitech, Remotes, universal remotes