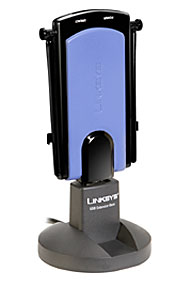 The Linksys Wireless-N USB Network Adapter is the very latest in wireless networking technology. By utilizing Wireless-N (draft 802.11n), you can enjoy high-speed wireless network access at greater distances for your desktop or notebook computer. The Wireless-N USB Network Adapter is up to 12 times faster than Wireless-G with 4 times the distance (when both ends of the wireless link are Wireless-N). The adapter can also connect to Wireless-G and -B networks.
Wireless-N works by overlaying the signals of multiple radios or MIMO (multiple-input multiple-output) to multiply the effective data rate. Wireless-N is great for multimedia-centric applications like streaming video, gaming, and VoIP calls. Wireless-N gives you plenty of bandwidth to run multiple media-intense data streams through the network at the same time.
Keep in mind, 802.11n is still in draft even though it is being adopted by a number of companies who have started implementing the specification. The N specification promises higher data transfer rates and greater wireless range, among other features. N is backward compatible with both B and G, but the real advantages would only be seen between two N compatible devices.
Wireless-N Network Adapter [Linksys]