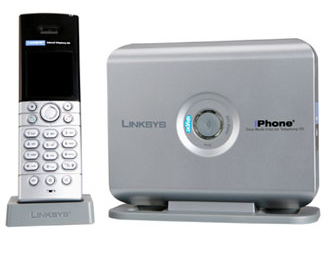 Today Linksys, a division of Cisco Systems announced its new iPhone family of VoIP handsets. Linksys has been a long time provider of small office and home networking solutions, and the iPhone series is intended to help the same market further take advantage of the internet and networking by combining VoIP, WiFi, Skype and standard telephone services into their handhelds.
This release has come as a surprise to a lot of Apple fans who have been eagerly anticipating a release of the iPhone based on rumors that fully expected it to be a product of Apple combining mobile phone features to that of an iPod.
Linksys has released the following seven handset solutions in the iPhone family that have different combinations of features and services. All area available globally now at the listed estimated prices:
* iPhone Cordless Internet Telephony Kit – CIT200- $79.99
* iPhone Dual-Mode Internet Telephony Kit – CIT300 – $99.99
* iPhone Dual-Mode Cordless Phone for Yahoo! Messenger with Voice – CIT310 – $99.99
* iPhone Dual-Mode Internet Telephony Kit for Skype – CIT400 – $179.99
* iPhone Wireless-G IP Phone – WIP300 – $219.99
* iPhone Wireless-G IP Phone with Web Browser – WIP330 – $369.99
* iPhone Wireless-G Phone for Skype – WIP320 – $199.99
"As the next generation of handheld devices, Linksys iPhone voice solutions and products are changing the way people communicate with their friends, family and colleagues. They enable compelling internet services, allow consumers to know when their contacts are available for calls, and offer access to personal content like music, movies and live video cameras." said Mike Pocock, Linksys senior vice president and general manager. "The development of the iPhone family demonstrates our flexibility in selecting the right partnerships, feature sets, and product designs to exceed the demands of even our most connected customers to whom the Internet is no longer a destination, but an inextricable part of their lives."
Linksys has added a number of features that are not common to VoIP phones to enhance the user experience and take advantage of existing services such as Skype and Yahoo Messenger. Consumers can use the new iPhone's to determine if others are available for a call through Yahoo Messenger, and can also program a zip code into the iPhone to get local search results for business listings. The dual-mode iPhone's allow for the convenience of looking up numbers through VoIP services and then dialing through the regular phone service on the same handset. The WIP330 handset allows users to access multimedia content such as music, photos and streaming video.
Press Release [Linksys]