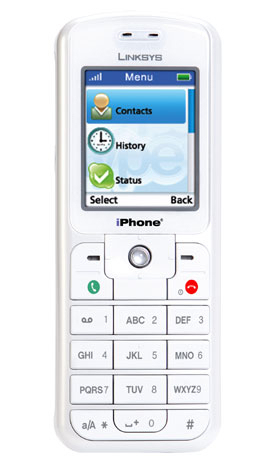 There has been a lot of anticipation for the release of the iPhone, with thoughts of the ultimate multimedia phone from Apple combining the coolest features of a mobile handset with the coolest features of an iPod. That may still happen, but it won't be called the iPhone.
Today Linksys announced the release of the Linksys iPhone family, a series of seven VoIP handsets that support different combinations of VoIP, Wireless-G, Skype and standard telephone services. While this announcement is still an impressive offering from Linksys, it has left many Apple fans slightly disappointed after waiting in excited anticipation for the Apple iPhone, not the Linksys iPhone. Apparently Cisco, the parent of Linksys, has owned the iPhone name all along. They acquired it in 2000 when they bought Infogear, who acquired the trademark for iPhone 10 years ago.
The phone pictured here is the WIP320 Wireless G phone preloaded with Skype from Linksys.
So, the question remains: Is Apple still coming out with a mobile phone solution? If so, what will they call it? Our opinion is that the iPhone would have been the perfect name, and the idea has been built up so much in rumors on different blogs that it will be tough to replace.