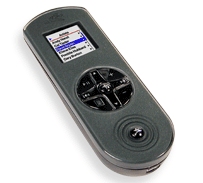 Keyspan has announced it has started shipping the TuneView for iPod. The TuneView is a 2-way RF remote control with a color LCD screen that lets you browse and fully control your Apple iPod.
The TuneView system consists of a 2-way RF remote with color LCD screen, a universal iPod dock, a USB power adapter, audio and USB cables, and various dock inserts. In addition to controlling your iPod the system will allow you to :
Connect an iPod to a stereo or powered speakers using the audio line out jack.
Connect an iPod to a TV using the S-Video jack.
Charge an iPod from an AC outlet using the USB Power Adapter.
Sync an iPod with iTunes running on a PC or Mac with the TuneView Dock.
Certainly there are other iPod remotes on the market, but the color LCD screen on the TuneView is a nice touch that lets you remotely view the contents of your iPod in addition to controlling playback. In addition, the TuneView dock and TuneView remote are USB devices which can have their firmware updated via download. A representative from Keyspan notes that, "Over time, Keyspan will release firmware updates that will add new capabilities to TuneView."
The TuneView is available now in North America, with an MSRP of $179 and will be available outside of North America in January.
TuneView Remote Control [Keyspan]
iPod remotes, Keyspan, Remotes, TuneView