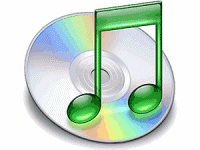 Reports earlier this week from a number of media sources indicated a 65% drop in iTunes sales since the beginning of the year for Apple iTunes, which is apparently just not true and a misinterpretation of data.
A blog from Forrester Research is attempting the clear up the misconception that iTunes sales have been falling, citing that the credibility of the media may actually be worse off than iTunes. A part of the report indicated a drop in credit card sales, since Forrester does not have actual data of iTunes sales from Apples. This data was too small in amount to be able to accurately show overall sales trending.
A 3% drop in Apple's stock that seemed to follow the same timeline as the media reports resulted in one upset technology company getting in contact with Forrester about the results. Forrester pointed out in their blog that Apple is not in trouble, even if they did have a drop in iPod sales, as most of their revenue is from the sale of the player and that iTunes is used to enhance the experience, not as the major revenue stream.
What the study was able to show is that there that some of the sales have been leveling at about 20 songs per iPod sold, and that the average transaction with iTunes is at $2.97, among other statistics.
Forrester also had a message for Apple, requesting that they be as open as other technology companies in order to avoid inevitable mistakes that will continue to happen as long as they keep their information secret.