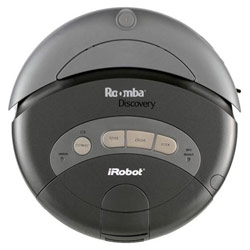 Now is your chance to own your very own Roomba vacuum. The iRobot Roomba Discovery SE is the top of the line Roomba with the very best of features.
The SE features include Dirt Detect, the self-charging Home Base, an extra-large debris bin, the Roomba Remote, three cleaning modes, and a Charging Wall Mount. The SE also includes the Advanced Power System which gives your Roomba the energy it needs to clean up to 4 rooms.
The Advanced Power System provides up to 120 minutes of cleaning power and recharges the battery in 3 hours – 60% faster than the original Roomba.
Buy.com has the iRobot Roomba Discovery SE for $164.99 with free shipping or $144.99 with Google checkout.

iRobot Roomba Discovery SE Vacuuming Robot Model 4220