The iPod has created such a flurry of excitement that the number of iPod accessories and compatible devices have been overwhelming. Here is a compilation of some of the more interesting iPod accessories that the Slippery Brick editors have come across this year. We'll add more as they come in.
---
T.P. iPod Dock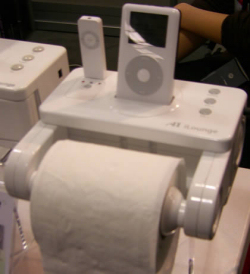 Hey, you can play games in the bathroom, so there is no reason why you should not be able to listen to your music in the John, too. The TP iPod dock just adds some convenience to listening to your music no matter where you are and what you're doing.
---
iDisguise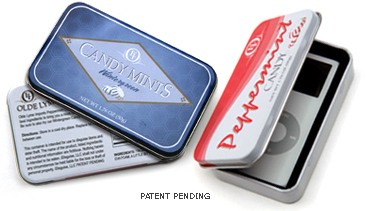 If you are a little paranoid about losing your iPod to theft you can disguise your iPod nano or iPod Shuffle inside one of these iDisguise custom made tins that look like a case for mints. It's unfortunate that mint thieves are probably run more rampant than gadget thieves, but at least they'll have a nice surprise.
iAttire
Clothing for your iPod. In this example the iPod is donned in a Cowboy ensemble complete with hat, chaps and lasso. Can you think of what a little iPod would possibly want more? iAttire.net has many more outfits to dress up your iPod in, including a clown, Hawaiian, Frankenstein, negligee and even a pirate costume.I personally have never had the desire to dress up my iPod, but then again I've never had the desire to dress up anything, so who knows, maybe your naked iPod and you are missing out. Right.
Bullet Proof iPod Case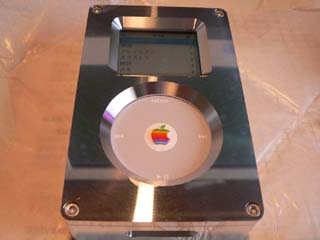 Rumor has it that due to having their iPod smashed on a crowded train, the owner bought a new iPod and created his own insurance by creating a case to protect his second purchase. Not only will this new case keep his iPod from getting crushed from the crowd, it can also take a bullet.You may be thinking that this is overkill, but all it takes is one gunfight where your iPod takes a hit for you to appreciate what a great benefit this hefty chunk of metal is.
Tavo Gloves for Operating Your iPod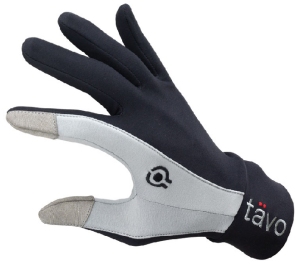 This is a special glove that has some "touchpoint" technology to allow you to run the click wheel on your iPod without having to take them off. I don't have much more to say about that.
The iBrella Umbrella
The iBrella is definitely towards the top of our list for outrageous iPod accessories. It's an umbrella who's actions are integrated with the functions of your iPod. You can plug your iPod into the bottom of the handle, open the iBrella and the music starts, close it and the music stops. Raise or lower to change the mode, twist to move to the next or previous song and spin to adjust the volume. Yeah that's right, the iBrella. I don't know if you can buy your own iBrella or not, and I also don't know that you would want to.
MuffPod Dock for your iPod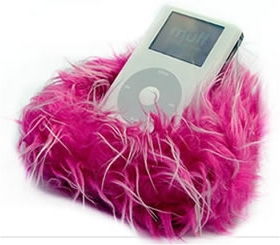 This is a fancy cover for your iPod dock, and comes in in a number of different colors and fabrics…. yep.
OhMyBod Accessory for Your iPod

I'm purposefully not picturing this one here since this is a family show, but I'll give you some hints: It is primarily for women, it vibrates to the rhythm of the music that it's connected to, and it rhymes with 'fibrator'. I guess there is even a leg strap so it can be worn around town. Anywho…
iSoundCap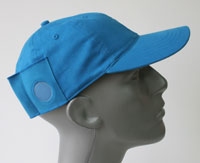 A cap with a place to put your iPod and a spool to hold the headphone wires. The perfect thing for when a belt clip, arm band lanyard or absolutely any other method of carrying your iPod just won't do.There are multiple styles including snow hats, running hats and bandannas.
iBreath iPod Alcohol Breathalyzer and FM Transmitter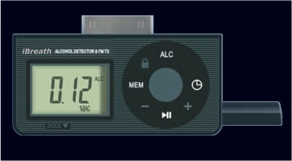 I can't even say the name of this iPod accessory without smiling a little in awe. I don't think I could even make this up. Yes, the iBreath is listed as an accessory for you iPod that has an integrated breathalyzer and doubles as an FM transmitter. A combination that I am frankly surprised does not show up on more gadgets.Actually, as tempting as it looks, good luck at buying one of these. I think the creator took a tip from the maker of the home lasik surgery kit. If it is real, it must be the result of two other products the maker had that went under. I guess he could make that three.
iWood iPod Case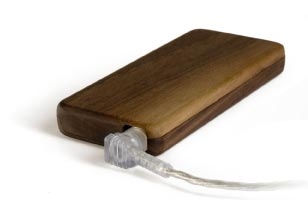 This is a case for your iPod made out of wood. It is custom made for the iPod, and when you order it you can even have it custom engraved. I 'wood' think about getting one of these if I thought it provided any value whatsoever.
iSnake iPod Holder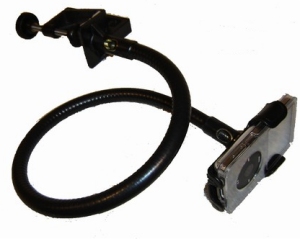 The iSnake website boasts the iSnake as being the "coolest iPod accessory yet", and in this list that may be true. It is a flexible shaft with a clamp on one end and a bracket to hold your iPod on the other.The site actually references an example of the advantage of the iSnake by allowing you to watch comedian Dane Cook while working on a spreadsheet. Wow, that is convenient since they put it that way.
The iPod TriPod Speakers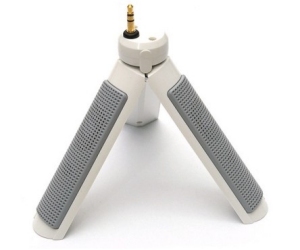 It would not surprise me to find out that this iPod accessory was invented solely because it rhymed, which is also mostly why I added it to this list. The trip legs double as speakers, and you simply plug the into the iPod headphone jack.The legs fold up and the whole thing is not much bigger than a lighter.Actually this one might be kinda' cool….