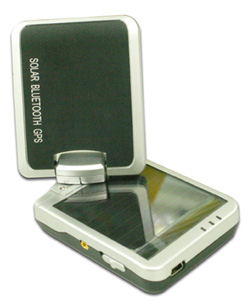 Transystems have come out with another small GPS receiver to take with on your travels, but this one can gather it's power from the sun. The iBlue757 GPS receiver has a built-in rechargeable battery that supplies up to 26 hours of up time on a 3 hour charge, but it also has an added solar panel to add countless hours of operation to this device.
It transfers data wirelessly via Bluetooth, so you will need a Bluetooth enabled smartphone or PDA with your mapping software to send this information to. The site also says it's compatible with TomTom Mobile Navigation software.
The whole GPS receiver with battery and solar panel included only weighs 105 grams, and allows you to have a nice compact receiver that won't run out of juice. Now you just have to make sure that your device running your navigation software lasts as long.
Source [TranSystem Inc]